Home
Builder's log
---
John Castner's Sonex : The freight company delivers
12 - 31 - 2009
It took two hours to break down the pallet, get it into the back yard, and rebuild it in the garage.
When Sears finally comes up with the floor kit for the garden shed and the shed gets built, there might just be enough room in the garage to chase down the first pieces and get started.
I put the Sonex order in the mail on 18 November.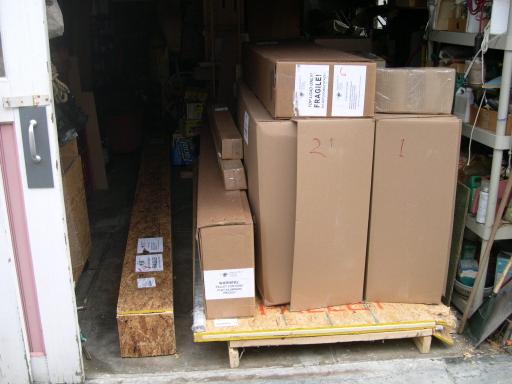 ---
Home
Builder's log
---
All content not otherwise protected is © 2004 - 2023 by John Castner
EAA Chapter 62 provides this builder's log as a service to its members so that those who would like to build an aricraft can learn from those that do.
Questions and Feedback can be sent to Webmaster.
---
Web hosting donated by Hurricane Electric.